Read the biography of the hottest hunk of the music industry in our Zayn Malik Biography. 
Zayn Malik Biography – Overview
Name: Zain Javadd Malik
Age: 25
Date of Birth: 
Father:  Yaser Malik, is British Pakistan
Mother: Tricia Brannan Malik, is English, and of part Irish descent.
Occupation: Singer-Songwriter
Girlfriend: Gigi Hadid 
Zayn Malik – Early Life
Zain Javadd Malik was born on 12 January 1993 in Bradford, West Yorkshire, England. Yaser Malik(his father) Tricia Brannan Malik are the parents of Zayn.
After the marriage, his mother converted to Islam. His sisters are Doniya, and two younger sisters, Waliyha and Safaa.
Malik has grown up in East Bowling. Which is located south of the Bradford city center. He was brought up in a working-class family and neighborhood.
Zayn attended Lower Fields Primary School and Tong High School in Bradford.
Once Malik has said in the interview that,
"I started taking pride in my appearance after moving schools at the age of twelve, and as a teenager, I took performing arts courses and appeared in school productions. I grew up listening to my father's urban music records, primarily R&B, hip-hop, and reggae."
He starting writing raps when he was at school, and sang on stage for the first time when singer Jay Sean visited his school. Malik also did boxing for two years from the ages of 15 to 17. Prior to his music career, he was originally planning to pursue a career as an English teacher.
Also, read:
Zayn Malik and Reality show
In 2010, 17-year-old Malik auditioned in Manchester for the seventh series of reality-television competition The X Factor, but he actually started entertaining five years before. He sang "Let Me Love You" by Mario as his audition song and was accepted into the next round. Upon auditioning for The X Factor, Malik stated that he was "looking for an experience". He was eliminated before the final round of the competition, but judges Nicole Scherzinger and Simon Cowell grouped him with fellow competitors Harry Styles, Niall Horan, Liam Payne, and Louis Tomlinson to form a new act for the remainder of the show, the boy band that would become known as One Direction.
The group quickly gained popularity in the UK, finished in third place, and were subsequently signed by Cowell to a reported £2 million Syco Records record contract. They subsequently signed in North America with Columbia Records.
Zayn Malik – One Direction
Formally, Zayn was a part of One Direction. As of now, the group consists of Niall Horan, Liam Payne, Harry Styles, Louis To0mlinson. Zayn and the three boys met in a British television show where they were kept in a group. They later formed and Started as One Direction. After the show ended, One Direction signed a contract with Simon Cowell's record label Syco Records
One Direction released, Up All Night (2011), Take Me Home (2012), Midnight Memories (2013), Four (2014), and Made in the A.M. (2015), which topped charts in most major markets, and also produced hit singles including "What Makes You Beautiful", "Live While We're Young", "Best Song Ever", "Story of My Life" and "Drag Me Down".
One Direction was honored with seven Brit Awards, four MTV Video Music Awards, six BillboardMusic Awards, seven American Music Awards, including Artist of the Year in 2014 and 2015. They also became the recipient of 28 Teen Choice Awards. In 2013, they earned an estimated $75 million becoming the second highest earning celebrity under 30 according to Forbes. The International Federation of the Phonographic Industry (IFPI) honored them as the Global Recording Artist of 2013. Forbes ranked them as the fourth highest-earning celebrities in the world in 2015 and also became second in 2016.
One Direction became the first band in the US Billboard 200 history to have their first four albums debut at number one. Their third album, Midnight Memories, was the best-selling album worldwide in 2013 with 4 million copies sold globally. The band's Where We Are Tour in support of Midnight Memories and Four, was the highest-grossing concert tour in 2014, the highest-grossing tour by a vocal group in history, and the 18th highest-grossing concert tour of all time, grossing $290.2 million (unadjusted for inflation). In 2014, Billboard named One Direction Artist of the Year. The band went on hiatus in January 2016, allowing all members to pursue other projects. As of 2017, the band has sold a total of 50 million records worldwide.

Zayn Malik – Girlfriend
Zayn Malik is currently dating Gigi Hadid who is an American Fashion model. They are dating for quite some time now.
Let's look into her personal life.
Gigi Hadid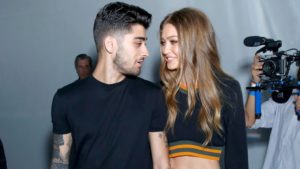 She was born on April 23, 1995, is an American fashion model.  Hadid's modeling career began when she was two years old after being discovered by Paul Marciano, of Guess clothing. Gigi started modeling with Baby Guess before stopping to concentrate on school. Hadid eventually returned to modeling, in 2011. She resumed working with Marciano and was named the face of a Guess campaign in 2012. Hadid has shot three campaigns with Guess as an adult.
Hadid started dating singer Zayn Malik in late 2015. She also appeared in Zayn's music video for "Pillowtalk". They appeared together on the August 2017 cover of Vogue] Malik and Hadid are the third couples to appear together on the Vogue cover.
Additionally, they have also done a Versus (Versace) campaign as a couple, with Hadid acted as the photographer. On March 13, 2018, Zayn and Hadid announced about their split to the world through their separate social media handles.
However, in June 2018, they confirmed they reconcile in their twitter post.
Zayn Malik – Parents
He was born to Yaser Malik and Tricia Brannan Malik. His father Yasir Malik is a British Pakistani. His mother Tricia Brannan Malik is English and also a part of Irish descent.
Zayn Malik has 3 sister including Donia Malik, Safaa Malik and Waliyha Malik.
Zayn Malik – Income
He was listed in "Highest earn celebrities". There he ranked in the 3rd place. Additionally, he was also reportedly the highest earning member of his former group – One Direction. In 2013 his band earned around 130M reported by Forbes. Apparently, he was the most valuable face of the band.
However, according to the reports he is having approx 50M.
Zayn has a fan following worldwide. He is currently making headlines with popular fashion mode, Gigi Hadid for their relationship.
Fans love them together. Tell us your favorite song of Zayn.
Thank you for reading!!