Dharampreet Singer was born on 9 July 1973 in Village Bilaspur, District Moga, Punjab. He was a king of sad songs. Audience of all age groups loved his singing.
Dharampreet Singer Biography (Highlights):
Today we will discuss about Dharampreet's family, biography, wife, mother, father, son, death reason, age, dob etc.
Birthday and Birth Place:
Born: 9 July 1973
Birth Place: Village Bilaspur, District Moga, Punjab
Real Name: Bhupinder Dharma
Dharampreet Family:
Mother Name: Not Known
In Above Photo: Dharampreet With Mother.
Father Name: Not Known
Wife Name: Mandeep Kaur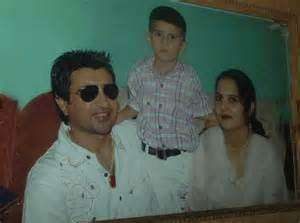 In Above Photo: Dharampreet With Wife & Son.
Son Name: Gursangat Preet (Nick name: Mahni)
In Above Photo: Dharampreet With Son.
Best Friends: Balkar Sidhu, Bhinder Dhabwali, Veer Devinder, Sangdil 47, Hardev mahinangal.
Watch Video Of Dharampreet Singer Biography In Punjabi:
Dharampreet Qualification:
Dharampreet Completed his schooling from Government school village Bilaspur, Moga. After completed his schooling he had done gradution.
He was fond of music since his childhood. During his school and college days he oftenly participated in every cultural activities.
Music Career:
Great singer Hardev Mahinangal introduced to Dharampreet With famous lyricist Bhinder Dhabwali in year 1996 at their home. Bhinder dhabwali asked to Dharmpreet, "can you sing a song." Then Dharampreet sang a song and the voice and singing style of his impressed everybody present there.
Therefore Bhinder Dhabwali also praised and invited him at Ludhiana recording studio. Then the career of this great singer had started.
Debut Album: Khatra Hai Sohneya Nu – 1993
Dil Nal Khed di Rahi – This album released in 1997 and broke all the records. After the  releasing of this album Dharampreet singer became the super star overnight. In few days 23 lakh original copies of this album had sold. Moreover lakh's of duplicate copies this album also sold in the market.
Also Read:
Dharampreet Singer Hit Albums:
Dil Nal Khed di Rahi – 1997 ,
Ajj sada dil tod ta,
Dar lagda vichran tu,
Ana Kade ve  Nai roe,
Dil kise hor da,
Saun Dea Zhadian (Duet Album),
Class Fellow,
Emotions Of Heart,
Religious Albums:
Parh Satgur di Bani,
J Rab Milje,
Death Date And Reason:
Dharampreet Committed Sucide on 8 June 2015 in his House at Bathinda.
Death Reason:
The reason behind sucide of singer Dharampreet is not clear. But according to near friends of him, he was in depression because of piracy and digitalization of singing profession.
Moreover adoptation of these new techniques were not easy for old singers. Because this is the era of internet and technology. In this era success of every song and album depends on how many views, likes and comment got on YouTube.
In spite of this , Today most of the people like to download songs from internet. Therefore singers unable to get any profit. Thats why Dharampreet was too much depressed. Becuase now his albums were not sold as in past. So he committed sucide.
Although, Dharampreet is not alive now. But his songs always alive in our hearts. He was a great singer and a human being. We always miss him.
I want to know what is reason behind piracy. Do you have any suggestion to stop piracy ? if yes comment below.
If you like this post please share with friends and family . Your one share and comment is true tribute to Late Dharampreet.
Thanks For reading this post.