Hello peeps, if you are looking for the best exercises to help you lose some weight then you are in the right place. Best weight loss cardio exercises for you to burn those extra layers of fat.
Best weight loss cardio exercises
1. Running
Make a habit of running an extra mile every day at a moderate pace. Always remember do not go for a fast and long distance in initial days. Start with low speed and limited distance and increase it gradually. You will surely see its result in days.
2. Jumping rope
Bring that jumping rope to work and let it burn some fat.
It has a lot of benefits as it helps coordination between your foot, shoulder, and hands.  Increase the speed and time gradually and see it doing wonders.
3. Cycling
"Keep the intensity really high on the intervals for a couple of minutes, then slow down for a minute or so, continually repeating these intervals for as long as you can," Adam said.
If you enjoy cycling, it's just a cherry on top. It does not just help you relax and enjoy the ride but also burns some fat. Do it on daily basis and see its results for yourself.
Also, read:
4. Stairs climbing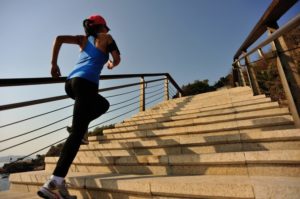 Though not many people think about it it does help you reduce some fat.
Though, not as much as running or jumping rope but still its good to go.
"Try incorporating 90% or more effort on the stair climber for 30 seconds with a one- to two-minute 'active recovery,' as a farmer carries with medium-weight kettlebells or dumbbells to incorporate upper body and core strength," says Ryan.
5. Swimming
Swimming is also an effective way to burn calories. In the water, you are fighting with gravity to stay afloat.
That is why your body uses more strength. This, helping you burn calories.
Adams says. "A breaststroke burns fewer calories than the butterfly, so be sure to incorporate different strokes in your training."
6. Rowing
Rowing also helps in burning calories in an easy manner. A low-stress exercise where your lower and upper body.
"Keep your chest up and use your entire body when rowing," says Boudreau. "But don't let your arms do all the work—try using your legs to get the motion going."
7. Sprinting
Set a treadmill or just go out, set a new goal and sprint. It will definitely burn a bunch of calories.
So what are the ways you are using to burn fats? Tell us below in the comment section.
Do not forget to share it among your friends. Thank you for reading.