Kamal Khangura Biography | Family | Husband | Punjabi model | Actress
Kamal Khangura Biography: Kamal Khangura is a punjabi model and actress. She was born on 17 December in Punjab. During 2005 to 2010, she became a super duper hit model. In addition, she is so beautiful and fabulous model & actress.
Kamal Khangura Biography:
Real Name  –  Kamaldeep Kaur Khangura
Nick Name  –  Kamal
Nationality  –  Indian
Profession  –  Model, Actor, Video director
DOB          –   17 december
Birth Place  –  Punjab
Hometown  –  Canada
Religion      –   Sikh
Favourite Actor  –   Sanjay Dutt
Favourite singers –  Gurdaas Maan, Kuldeep Manak
Favourite food    –   Chocolate pudding, Chat papdi,Paneer tikka
Favourite destination – London, USA
Height  –   5'6
Body measurement  –   32 24 36
Husband name – Vicky Shergill
Mother – NA
Father  – NA
Brother  –  Hapreet Khangura
Kamal Khangura biography
Personal Life:
As Kamal Khangura is born and brought up in Chandigarh. Therefore, since her childhood she was very beautiful and stylish. Moreover, she was the most beautiful girl in her School. As a result, during her School days she won many beauty competitions. Apart from it, she was very good dancer and everyone praised her.
If we talking about her family, Kamal has two brother and one sister. In 2014, she got married with Vicky Shergill who was also her best friend. Now, both are living in Canada.
Kamal Khangura struggle story: 
Kamal started her modeling career at the age of 13. Moreover, at that time she was studying in 9th standard. But she was very talented. That's why one of the famous punjabi music video director recognized her ability of modeling. Consequently, he offered Kamal to work in one of his video song.
In that song, she gave wonderful performance and became star overnight. After that, Kamal Khangura work in hundred of songs and never looked back.
Career Life:
As a beautiful model, Kamal is also interested in her studies. During Schooling time, she did a large number of video songs with several Punjabi male singers. Fortunately,she got famous from the song of Jassi Sohal named 'Aajin koi bahana maar ke'.
List of singers are:
Jashandeep
Lovely Nirmaan
Nachatar Gill
Manjit Ropowaliya
Kuldeep Rasela
Mangi Mahal
After sometimes, she realized that study is more important than modeling. Hence, kamal almost left the modeling and started studying with full concentration.
After completed her studied and by the demand of her fans, she is come back in Punjabi music industry. Therefore her fans are very happy to see her again in videos.
Further, Kamal Khangura also played a role in Punjabi Film named 'Titanic'. This film was released in cinemas in December, 2018. Besides it, this film is directed and written by Ravi Punj. In addition, audience really appreciated Kamal's acting in this film.
Recently, she worked in the video song named 'Vyah Karta'  of Jaggi Kharoud. Khangura's fans really enjoying her work in this song.
Kamal Khangura's fitness secret:
Although she started her career at the age of 13 but yet she is looking very young. She tells, this is just because of routine excerise. Hence, Kamal go to gym daily and eat healthy as well as hygienic food. As a result, she is so fit and attractive.
Kamal Khangura fitness:
Awards:
Kamal Khangura is gorgeous model. Therefore, she was awarded as the best model in Patiala as well as in Sangrur in 2008.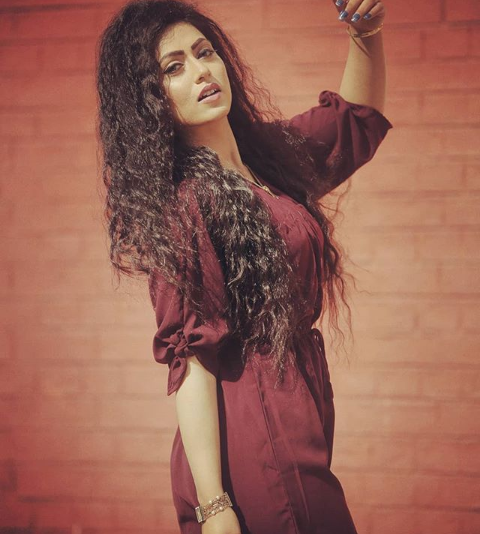 Consequently,she is a good actress besides a perfect model. Moreover, Kamal is also working as a video director.
That's all in this post. I hope you like this post. If you like this post, please share with friends. Besides it, If you are a fan of Kamal Khangura. Then do comment and Write "I am Fan of Kamal Khangura".
Stay Tuned for more posts. Thanks