Hindustani Bhau Biography | Bigg Boss 13 Hindustani Bhau | Personal Life | Career | Youtuber
Hindustani Bhau Biography: Hindustani Bhau is a famous YouTuber in India. Actually, his real name is Vikas  Jayaram Phatak. His Channel name is "Hindustani Bhau". That is why he is known as Hindustani Bhau.
Additionally, he often makes videos on the wrangling of India and Pakistan in Munna Bhai style. Thus, he is becoming popular on Youtube.
In these days, he is also becoming a strong contestant in the Bigg Boss' house.
Watch Hindustani Bhau Biography:
Bigg Boss 13 Contestants Biodata (Hindustani Bhau):
Real Name  – Vikas Jayaram Phatak
Nick Name  –  Bablu
Profession  –  Youtuber
Birthplace  –  7 August
Birth Place  –  Mumbai, Maharashtra, India
Hometown  –  Mumbai, Maharashtra, India
Sun Sign  –  Leo
Religion  –  Hindu
Height  –  5'8" inches
Weight  –  70kg
Eye color –  Black
Hair Color  –  Black
School  –   St. Andrew's High School, Mumbai, India
Educational Qualification  –  7th Class
Marital Status  –  Married
Son  –  Aditya Phatak
Tattoos  –  on a left hand (Tattoo of his son's name and stars), on the right hand (sai baba of Shirdi)
Personal Life:
Vikas Phatak lives in Mumbai, Maharashtra, India. He lives with his parents and wife. In addition, he has a son also and his son's name is Aditya Phatak.
Unfortunately, he faced several financial problems. As well as his father became jobless when he was studying in the 7th class.
Finally, Bhau left his studies in the 7th standard because of the worse financial conditions of his home. However, he never told about his studies with his family. Hence, he started to help his father and he did some temporary job also.
Initially, he started working in Khar Gymkhana. He worked there as a ball boy at the tennis court. Secondly, he worked as Chhotu at a ladies' bar in Santacruz. He cleaned the floor and dishes in the bar.
Thirdly, he sold incense sticks on the train. Moreover, he worked in a saree shop, in the garage and so on. At that time, he lived in a small hut.
Read Also:
Bigg Boss 13 Contestants Biography | Name and Age | Biodata | Pics | Daily Updates
Career:
Further, he started his youtube channel. Actually, in his video, he replies to those people who abuse to India. Now, he has 450k subscribers on YouTube channel.
In conclusion, his channel significantly grew up. So, now he has his own house and flats, private bungalows, personal Ferrari car.
In fact, he uses slang and abusive languages in his videos. That is why he never records his videos at home. Therefore, he commonly shoots videos in his car.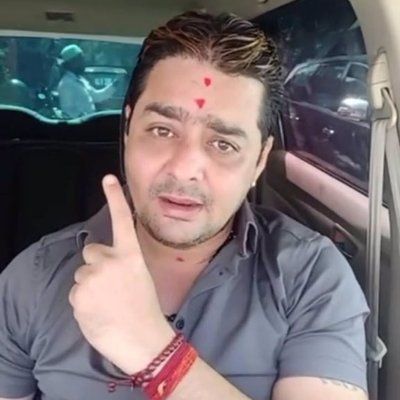 Further, Bhau works as a news reporter at Daksh Police Times, which is a local newspaper in Mumbai.
So one-time he was awarded for the Best Chief Reporter in Mumbai.
Along with all things, Phatak runs an NGO named "Aditya Yuva Pratishthan". This NGO named on his son's name. As well as Bhau is also a founder and president of this NGO.
Bigg Boss 13 Hindustani Bhau:
In 2019, Bhau has entered the reality show Bigg Boss 13 through wild card entry. He has just completed 2 weeks in the show. However, he is playing so strongly. One main thing I would like to tell you that Bhau is playing independently.
As he uses slang and abusive languages in his videos, he never used that type of language yet.
Hindustani Bhau Eliminated:
As we know that in the weekend ka war episode, Hindustani Bhau has been eliminated from the Bigg Boss house. He felt so happy when he evicted. Because he missed his family a lot.
Now, it is the end of the post. I will come in my next post.
Stay tuned stay blessed.
Thanks.