Kamal Khaira Biography | Family | Wife | Cars | Married Or Not | Songs | House
Kamal Khaira Biography: He is a Famous Punjabi singer. He was born on 26 September in village Kishanpura Khurd, Moga, Punjab.
In this article, you can read about Kamal Khaira Biography, Kamal Khaira Family, Kamal Khaira Dob, Kamal Khaira Married or Not, Kamal Khaira Mother, Kamal Khaira Father and Kamal Khaira Hit Songs.
So keep reading this Post until the end. I am sure you know many things about your favourite star Kamal Khaira in this post.
Kamal Khaira Biography: Personal Information, Bio
Real Name – Kamaljeet Singh
Singer Name or Artist Name: Kamal Khaira
Father Name: S. Darshan Singh.
Mother Name: Manjit Kaur.
Born – Village Kishanpura Khurd, District Moga, Punjab, India
Genres – Folk, Bhangra, Pop,
Occupation – Singer
Wife Name: Kamal Khaira is not married yet. So he is Unmarried.
Marital Status: Unmarried
Children- No
Debut Song: "Phela Bench" Released on 26 May 2014 by Speed Records.
Watch Below Kamal Khaira Biography video in Punjabi:
Kamal Khaira Family:
When Kamal Khaira was only 4 years old. his family left Village Kishanpura Khurd, Moga and started living in Ludhiana. Since then Kamal Khaira and his family are living in Ludhiana.
Kamal Khaira's Father name is Darshan Singh and his mother name is Manjit Kaur.
In Above Image: Kamal Khaira and his Brother Gurjit Khaira.
He has one brother and 2 sisters. His brother Gurjit Khaira and sisters are married.
Kamal Khaira is not married yet. So he is unmarried or single.
Kamal Khaira Qualification:
Schooling:
Kamal Khaira had completed his schooling from Guru Amar Das Model Sen. Sec. School Ludhiana. Since his school days, he participated in cultural programs and in a singing competition. Therefore, he won many prizes in his school days and got appreciations from teachers.
College:
After completed his schooling, Kamal Khaira got admission in Khalsa College Ghumar Mandi Ludhiana and done Graduation. 
In his college days, Kamal Khaira Participated in all cultural Programs. His friends and professors were highly appreciated his singing.
How Kamal Khaira Become Star Overnight: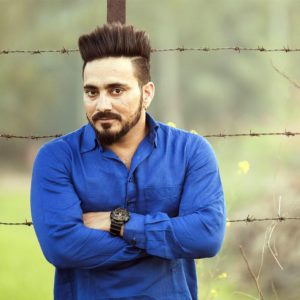 Since college days Kamal Khaira is very fond of Gym and body fitness. Therefore, He usually goes to the gym daily.
Back in 2013, He was in the gym and was doing exercise. Some of Kamal Khaira's Friend requested him to sing a song. Then, He sang a song and the name of the song was IELTS which is originally sung by Sharry Maan.
When Kamal Khaira was singing in Gym. One of Khaira's friend recorded his video and uploaded on YouTube. In few days, the song goes viral on YouTube and other social media Platforms.
After this song, Kamal Khaira had become a known singer on social media. Therefore, His friend and Popular Lyricist and Music Director Preet Hundal Suggested him for recording a song. Then Kamal Khaira Recorded his Debut song Phela Bench in 2014.
Kamal Khaira Music Career:
Kamal Khaira Debut song was Phela Bench. This song is released by Speed Records on 26 May 2014. Song was penned by Preet Hundal (Mohali wala) and the music was also given by Preet Hundal. This song got 6.4M views on YouTube.
Hit Songs:
Phela Bench
Madi Kinj Keh Diyan
Ignore List
Family
Vichola
Selfian
Karza Maa Da
Bahli Sohni
Desi Jatt
Gaddi Ch Yaar
Kamal Khaira has released almost 10 single tracks till now.
His recently released song "Gaddi Ch Yaar" got 32M views in few days. So this song is also a big hit of Kamal Khaira.
Kamal Khaira Cars: 
He Has Four Cars. The Name of cars are as follows:
1. Mitsubishi Pajero Sport
2. Chevrolet Cruze
3. Maruti Swift Dzire
4. Hyundai i20
ALSO READ: 
I hope you like this post If you like please share this post with your friends, family and colleagues. Moreover, you can comment in the comment section and you can tell us how was this post.
If you want to read your favourite singer's Biography you can tell us the name of your favourite star in the comment box or you can do a direct message to me on Facebook Page Bolly Holly Baba. we will try to write a post as soon as possible. I will wait for your comments and messages. Thank You so Much.