Hello peeps, the most awaited award show " Zee Rishtey Awards" was held yesterday.
Everyone was super excited to know who grabbed the awards.
And guess what!!
We have the list of winners with us.
Read on to know more.
Zee Rishtey Awards
Surbi, Sriti, Asha Negi and almost all the pretty ladies from the television graced Zee Rishtey Awards
Asha looked ethernal in her pink gown.
Below is the list of winners. Check it out!
Favorite Naya Sadasya(Male)
Mishal Raheja, who plays the role of King Singh in Kumkum Bhagya, has apparently bagged 'Naya Sadasya' Award, at Zee Rishtey Awards 2018.
The actor looked handsome in a white shirt and cream pant teamed up with a denim jacket.

Favorite Saas
Kanika Mann bagged the award for Favorite saas in Zee Rishtey Awards.
She says the role of Guddan in Guddan tumse na ho payega.
In her insta post, she said "Hahahaha !! Guddan se ho paaaya !! 🤗 #favouritesaas #guddan #kanikamann #zeerishteyawards2018 @zeetv @shoonya_square @ved14aug @vaibhav_singh_737 @vidhii_25."
Favorite Jodi Awards
It seems like Sriti and Shabbir won the Best Jodi award for Kumkum Bhagya.
And Eisha – Adnan won favorite Best jodi Award.
Ishq Subhan Allah actors won 5 awards in total.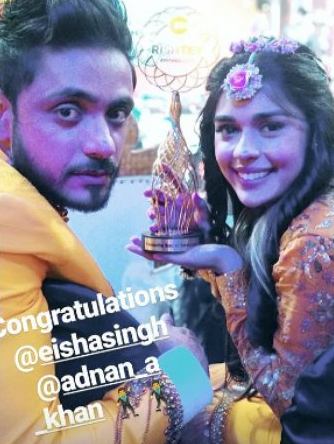 Social Swagger
Eisha Singh apparently won Social Swagger Award. The actress looked pretty in her green Lehenga.
Best Father
Suneel Pushkaran won the award for Best Father.
He plays the role of Eisha's Father in Ishq Subhan Allah.
Best Show Across The Channels
Surbi Jyoti smiled cheerfully at the pazzari as she held the award for her Show.
Naagin 3 was chosen as the Best Show Across the Channel.
Best Actor Male (Negative Lead)
Sanjay Gagnani, who plays a negative role in Kumkum Bhagya bagged the Best Actor Male in the Negative category.
He wrote in his Insta,"🙏 I dreamt each and every day of my life of holding her since the time I became an actor. Finally, I get to kiss her.
I believed in my dreams and became a workaholic to get her home for my Dad who believed and supported me the most! This award is dedicated to each and everyone who believed in me.
Your belief made me realize that I have a responsibility on me to make you all proud. Here it is.. Best Actor Male in A Negative Lead (Jodi) #zeeristeyawards2018″
https://www.instagram.com/sanjaygagnaniofficial/?hl=en
Apparently, Karan Jotwani who plays the role of Sahil Agarwal in Aap ke ah jane se bagged an award as well.
So peeps, hope you enjoyed the news.
Do tell us in the comment section if your favorites bagged an award or not.